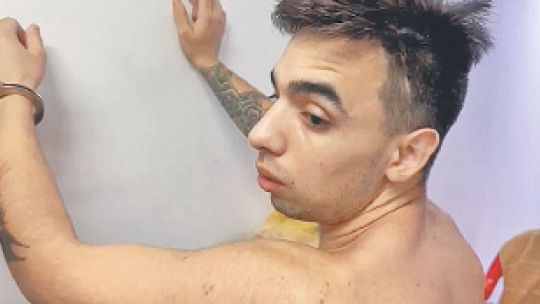 Máximo Ariel Cantero (58) is considered the founder of the drug gang "Los Monos". Nicknamed "El Viejo", he was arrested for drug trafficking in August 1999, at a service station in the town of Itatí, Corrientes province: he was carrying 76 kilos of marijuana.
His children -he has 24 with different women- followed in his footsteps with different luck: Claudio, alias "El Pájaro", is the best known of the clan because he knew how to manage the organization in its years of greatest expansion until he was assassinated in August of 2013. The death of the drug lord led to a bloody war in the city of Rosario that made the gang famous.
Since then, the Old Man's children, grandchildren, daughters-in-law and other relatives have been linked to drug trafficking cases. In this case, Alexis Claudio, alias "Tartita", a 24-year-old who remains detained in Unit No. 11 of Piñero.
The tiny cell that he occupies with his brother Ariel Maximiliano, alias "Chanchón", was raided as part of an operation led by the Argentine Federal Police (PFA), in which 25 people were arrested and 2 kilos of marijuana and 25 of cocaine.
The suspicion is that this organization brought cocaine to Rosario from Buenos Aires, under the directives of "Tartita", who continued with the drug business despite having three sentences of 24 years and 10 months in prison.
His main criminal outside the wall was Leonardo Dalmacio Saravia, alias "Leo Rey", who was arrested in a hotel in the Buenos Aires neighborhood of Balvanera, located at Sánchez de Loria 191, along with four other accomplices who used false personal documentation.
For the investigators of the case, Saravia would be the one who "exercised the regency of the distribution of narcotics in the conflictive neighborhood of Vía Honda (in Rosario), with discretion of traffic, transport, collection, fractionation and distribution."
Among the 25 detainees is another young prisoner, Franco Matías "Milanesa" Almaraz (23), convicted in September of last year as a hit man for a gang that operated in another Rosario neighborhood that was plagued by violence, Ludueña.
"Milanesa" was sentenced to 17 years in prison for the murder of Alexis Ortiz, which occurred on July 3, 2020, and for a shooting that occurred 11 days later in which he shot a man who was on the street and ended up injuring a woman. 4-year-old girl, judicial spokesmen recalled.
As he already had a previous sentence of 3 years of conditional execution for the crimes of threats and coercion, the sentence for the "trigger" was unified in 20 years.




Source link