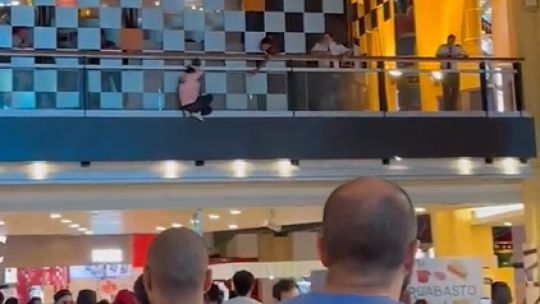 Moments of strong tension and fear lived this Sunday, April 9, dozens of people who walked through the Supply Shopping. It is that a 23-year-old man hung from a railing and for a few minutes He threatened to throw himself into the void. Fortunately, the situation was deactivated due to the intervention of police officers and firefighters.
It all happened on Sunday afternoon. Families, adolescents and children circulated normally through the shopping center until the situation altered the daily life of the place: on the third floor, a man managed to overcome a railing and stayed for a few minutes squatting but with his body directly in the void. He only held on to the railing with his hand.
"My life was complicated by a barbecue": a deputy drove drunk and her car was hijacked
After realizing the fact, several witnesses rushed to the security postswho quickly activated a protocol that had the intervention of the City Police and Firefighters, who approached the place.
Everything happened in the evening hours, in the shopping center located at 3,200 Corrientes Avenue, in the Buenos Aires neighborhood of Supply.
Suicide attempt in Abasto: how it ended
The episode took place in the third level of the mall in front of hundreds of people. The young man remained on the top floor of the shopping center, where the playground is located. However, he threatened to throw himself on the floor where the food court is located, in full view of everyone.
From the beginning, shopping staff approached to try to save him, but everything calmed down when the firefighters asked for one person to come to the scene. hydraulic crane.
A bus collided in front of Alto Palermo: the driver fell asleep, tested positive for cocaine and there are 14 injured
Once there, they managed to get the young man out of danger, who received primary medical attention and was later transferred to the José María Ramos Mejía Acute Hospital, where he was diagnosed with "nervous breakdown".
Part of the episode was recorded and was published by users on social networks. The video makes clear the climate of deep tension that was experienced in the place in the face of silence and the impassivity of the people. Meanwhile, a police officer can be seen leaning over the decoration of the mall with an outstretched hand facing the young man.
If you or someone you know is going through a crisis situation or is at risk of suicide, you can receive assistance by calling 135 from Buenos Aires or 011 5275-1135 or 0800-345-1435 from all over the country.
AS/fl




Source link