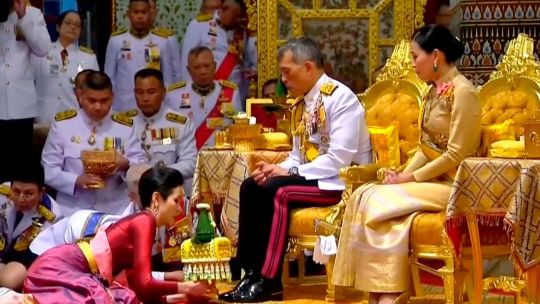 Narathorn Chotmankongsina 26-year-old man, was sentenced, on March 7, in thailandto 3 years in prison for selling calendars that satirized and smeared, according to the Thai authorities, the monarchy, through the use of a symbol associated with pro-democracy movements: a yellow rubber duck
In December 2020, Narathorn Chotmankongsin was arrested by the Bangkok police at his home, where they confiscated a series of calendars that showed cartoons featuring a yellow rubber duck.
The latest pro-democratic social-political movements have used this figure as a representative symbol. For this reason, the Thai authorities accused Narathorn Chotmankongsin that his calendars ridiculed and slandered the current king, Rama X. The conviction is based on article 112 of the Thai Penal Code, which establishes that "anyone who defames, insults or threatens the king, the queen, their heirs or regents, will be punished with a prison sentence of three to fifteen years". .
About, Human Rights Watch declared, on its official sites, that the ruling and the current Thai regulations go against the International Covenant on Civil and Political Rights; pact that was ratified by thailand in 1996.
What does the International Covenant on Civil and Political Rights say?
Among the rights recognized in the pact, is the recognition and protection of a fundamental right: the freedom of expression. Article 19 specifically states that: Everyone has the right to freedom of expression; This right includes the freedom to seek, receive and disseminate information and ideas of all kinds (…), whether orally, in writing or in printed or artistic form, or by any other procedure of his choice, their restriction being prohibited unless they are previously provided by law, which are necessary to protect national security, public order (…).
On this last point, the NGO has, on numerous occasions, expressed its concern about those laws that impose criminal sanctions on peaceful demonstrations of a political ideology. According to Humans Rights Watch, the case of Narathorn Chotmankongsin fits into these parameters and violates such a fundamental right, as is the freedom of expression and, unfortunately, it is not the first time that this has happened in Thailand.
About the political situation in Thailand…
Human Rights Watch It has presented a series of communiqués denouncing that, in recent years, the number of people convicted under Article 112 (for defamation of the monarchy) has grown considerably. It is estimated that from 2020 to today, there are around 200 people accused of crimes of "lèse majesté", as they are colloquially called, and there have even been accused of sedition (under the parameters of article 116 of the Thai Penal Code).
The background of these questionable arrests is a pro-democracy political movement that has grown in recent years and has been led, for the most part, by the youngest sectors of society. Among their claims, they demand the dissolution of parliament, a constitutional reform, the cessation of harassment, by the government, of those who criticize the current regime and a reform in the monarchical system.
BF / ED




Source link