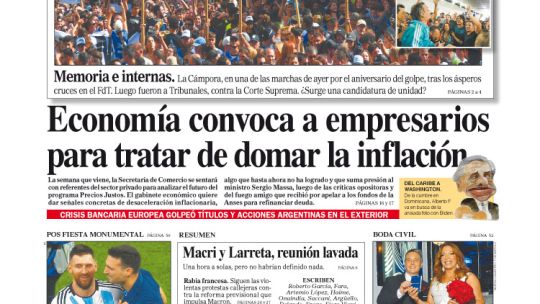 Below we offer a review of the main titles of the 1,807 edition of the PERFIL newspaper, for this Saturday, March 25, 2023, an issue that is accompanied, as every weekend, by 6 supplements that cover the most varied topics, both informative and of entertainment: The Observer, Shows, Buenos Aires Times, Parabrisas, Marie Claire and Joker More Crossword:
Economy summons businessmen to try to tame inflation. Next week, the Secretary of Commerce will sit down with leaders from the private sector to discuss the future of the Fair Prices program. The economic cabinet wants to give concrete signs of inflationary deceleration, something that has not been achieved so far and that adds pressure to minister Sergio Massa, after criticism from the opposition and the friendly fire he received for appealing to Anses funds to refinance debt.
Memory and internal La Cámpora, in one of the marches yesterday for the anniversary of the coup, after the harsh crosses in the FdT. Then they went to the courts, against the Supreme Court. Is there a candidacy for unity?
Macri and Larreta, meeting washed. An hour alone, but they wouldn't have defined anything.
Fontevecchia report. To Pakistani doctor Mihouddin, a global expert in animal organ transplants.
Dengue cases doubled in 13 provinces.
French rage. Violent street protests against the pension reform promoted by Macron continue.
Accused of abuse. What does Justice say about Jey Mammon.
The disturbing evidence of the Corazza case. The file for corruption of minors.
Religion and power. Marcelo Piñeyro talks about the final season of El Reino, his successful streaming series.
Lizy Tagliani got married and Mirtha was godmother. Party in Berazategui with various celebrities.
Selection: The project towards the 2026 World Cup has already started. Scaloni plans the new stage, with Messi?
They write in this issue:
Roberto Garcia, Fara, Artemio Lopez, Haime, Onaindia, Saccani, Arguello, Delgado, Fraga, Fiore Viani, Neilson, Soltys, Hopenhayn, Kohan, Giampaolo, Guebel, Spregelburd, Link, Tabarovsky, Dominguez, Lamas, Lanzani, Berchi, Raimon , Genovese, Gomez, Garabetyan, Snow, Ise, Froidevaux, Bordigoni, G. Martinez, Izaguirre, Mozetic, Spillman, Ayerdi and Fontevecchia.




Source link