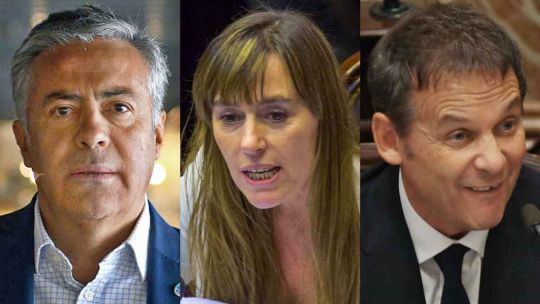 As provided by the national Constitution, next December a third of the Chamber of Senators will be renewed, 24 legislators from eight provinces, in a very different scenario from that of that 2017 in which they entered.
The province of Buenos Aires will be the highlight of the election with a ballot in which there will probably be weight figures to accompany the presidential option, with a latent alternative that Cristina Kirchner be the one to lead it. As the Macrista midterm election was won by the then ruling party, the representatives are José Torello (replacing Esteban Bullrich) and Gladys González by the majority, while Juliana Di Tullio represents the ruling party, instead of Minister Jorge Taiana. The same favorable scenario for Juntos por el Cambio occurred in Jujuy and Santa Cruz, where so far it is not so clear that the opposition can maintain the two seats for the majority in this electoral period.
The split of the Frente de Todos interblock and the formation of the Federal Unity bench with wayward senators will be one of the obstacles to overcome at the time of assembly in various provinces. San Luis is one of the cases where the two ruling party legislators stopped sharing a bench: while Adolfo Rodríguez Saá stayed on the Frente de Todos, María Eugenia Catalfamo made the leap.
In La Rioja, meanwhile, the original proposal of two representatives of Juntos por el Cambio and a referent of the Frente de Todos (Ricardo Guerra, instead of the late Carlos Menem), was blurred with the change in profile of Clara Vega, who he distanced himself from his initial belonging.
Although it is not a province that contemplates a replacement in 2023, Mendoza is one of the provinces that attracts the attention, above all, of radicalism before the eventual departure of Alfredo Cornejo to occupy the governorship.
As there is no re-election, the province of Cuyo has a tradition that the outgoing governors usually head the list of senators to continue in office. But here the data has to do with the fact that Rodolfo Suárez is Cornejo's substitute on the 2017 list, so if he becomes governor, he will automatically give his position to his eventual predecessor, in a political castling that excites to the UCR.
Enclosure locked. After the confrontation between the ruling party and the opposition that caused a session to fall again, Juntos por el Cambio has already anticipated that it will try again to reach an agreement with the wayward Federal Unity to meet on April 13 and hit the Front of All, which has not yet reached the own number to start any debate.




Source link