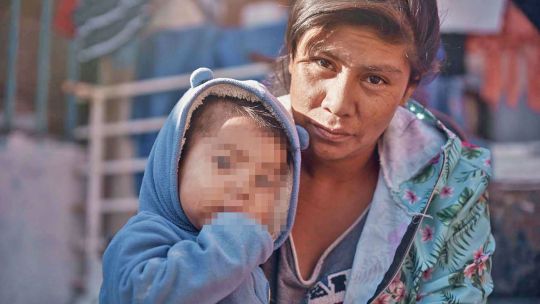 Whistles have been used for centuries for all kinds of purposes. From musical uses, to notices between communities, or war strategies. Some whistles, which in ancient times were animal horns, were used for religious purposes. In this category you could find the shofar, from Judaism, which emits a sound with the aim of awakening the soul.
Last week Unicef ​​presented its new campaign, Guardavidas de la Infancia, which, it could be said, has a similar objective: to raise the awareness of all those adults who can help change the sad reality that many children suffer in Argentina: hunger, violence, helplessness and lack of education. For each of these problems, a spot was made with real lifeguards and specialists who blow their own whistle.
On the 40th anniversary of the return to democracy, Unicef ​​Argentina warns about some of the main problems that affect children and adolescents in the country. To have rights is to have a plate to eat. It's going to school. This campaign is about speaking up. It speaks to adults, that we are responsible. There are many lifeguards, but we have to be more. Childhood is today", affirmed Luisa Brumana, Representative of Unicef ​​Argentina.
Hunger. More than a million Argentine boys and girls skip at least one meal a day due to lack of resources, according to data from a Unicef ​​study. Half of the children in Argentina live in poverty: there are six million poor children. It is important to remember that even though the amount may go unnoticed, the face of a child is behind it, along with her history, her family, and her future.
This week INDEC released the poverty data for the second semester of 2022. At the end of last year the poverty rate was 39.2%, according to the Permanent Household Survey: there are more than 18 million poor people in Argentina. Poverty grew both compared to 2021, as well as compared to the first half of 2022: in one year there are more than a million new poor people. It is expected that in 2023 it will continue to grow. If we talk about children, 54.2% of children between the ages of 0 and 14 live in situations of poverty.
In a place north of Salta, María Ramírez, a cook, decided to take a course to learn about nutrition and thus better feed the children she feeds. "I know that the food in this soup kitchen is very important to these kids, perhaps the only one, because I also went to a soup kitchen when I was a girl, and so did my son. The girls and boys are in danger," says María, one of the four Children's Lifeguards.
In Argentina there are more than 13 million minors. The northern provinces, and Santa Cruz, are those that have, proportionally, more children, compared to their total population. Misiones, Salta and Formosa have 33% of children in their population; Chaco, Santiago del Estero and Santa Cruz have 32% minors; and Corrientes, Jujuy and Tucumán has a 31% population of girls and boys.
In the north, what is called population aging does not occur on the same scale as it does in other regions of the country, which implies that, over time, the proportion of older adults grows. In general, without going into the situation of each province, there are two reasons why this aging does not occur in some areas: higher birth rates, and higher death rates in older populations.
CABA is the region with the most aging population, with 22% of its population aged 60 or over. While Misiones, Salta, Formosa, Chaco, Santiago del Estero, Santa Cruz, Jujuy, Neuquén, Chubut, Tierra del Fuego, La Rioja, have percentages that vary between 10% and 13% of the population aged 60 or over. The rest of the country's provinces have percentages of 14% of older adults, upwards.
For its part, the City of Buenos Aires has a 23% population of minors, being the region with the lowest proportion of children. The data is from a study carried out by the Ministry of Social Development, specifically the National Secretariat for Children, Adolescents and Family.
In concrete numbers, in Buenos Aires there are five million minors; then there is Córdoba with a million; Santa Fe, with almost a million; and then CABA with 700,000 children. The provinces with the least number of minors are La Rioja, with 114,000; La Pampa with 98 thousand; and Tierra del Fuego with 51 thousand.
"Poverty is inherited. It's the feeling that you can't get out. Poverty in childhood is working. The thousands of Marías are the first lifeguards to appear in the lives of these boys, and they are not recognized as they deserve. They give the children much more than food," says Carolina Aulicino, a social policy specialist at UNICEF.
Absence of education. One in two young people living in poverty does not complete secondary school; there are approximately three million boys who do not finish their studies. Among those who attend, three out of ten do so with a school lag.
Carlos Galmez, a Mathematics teacher from Tucumán, is the second of the Children's Lifeguards, and affirms: "There are children who feel that they cannot continue, or that they simply drop out. They are guys with very complex situations. They are looking for someone to listen to them, to feel that they are capable of finishing school." Galmez's parents were also teachers: "The vocation I see in teachers led me to say: this is what I want to be. Protect the boys from danger."
Cora Steinberg, a UNICEF Education specialist, affirms that "when a boy is out of school, he is in danger. If they're not at school, we don't know where they are. School is sometimes safer than home." "The teacher can detect if something happens to the boys," agreed Julián Weich, who was the host of the event to present these data and the campaign.
Steinberg continued: "Knowing is critical to being able to function, go to the supermarket, make a bill, use language. There is a lot to do: only 30% of the boys who are in high school have satisfactory performance in Mathematics".
Violence. Six out of ten boys are raised with violence: almost eight million boys, 7 million 800 thousand more precisely. Violent parenting not only involves physical punishment, although of course it is part of it, but yelling, threats, and humiliation are also unacceptable.
Neuquén prosecutor Germán Martín Aimar, member of the Network of judges committed to children and adolescents in Argentina, and third Lifeguard, warns that physical punishment can affect the psycho-emotional and physical development of children: "The idea that punishment corrects, and although it is a mistake in general, particularly in childhood it is totally counterproductive, traumatic and cruel. A child who is beaten or humiliated is a child whose childhood is being stolen."
According to Unicef ​​studies, 59% of girls and boys in the country between the ages of one and 14 experienced violent parenting practices, 42% of cases suffered physical aggression, and 51.7% psychological aggression. "We all have to be caretakers, see where the potential dangers are," says the prosecutor.
Alejandro Morlachetti, a specialist in Protection of Rights and Access to Justice, points out that in the Argentine Constitution violence against children is expressly prohibited, and brings a terrifying fact: 73% of children with disabilities suffer violence.
Aimar was asked what he would say to those who perhaps do not report, because they do not want the child to be taken away from his family or who agree that "the boy needs the mother", and he replied: "One can intervene by advising. That we are active is that we can mediate in the situation, not fall into the same punishment. It's about alleviating that situation."
On the same subject, the Tucuman educator Galmez affirmed: "We have to take charge when the boys are mistreated so that they feel protected. Let them know that there is a team that is supporting him and that wants to get him out of that." The complaint lines are 102, the telephone number for girls and boys, and 137, the number of family and sexual violence.
Abandonment. The following problem is quite particular, on the one hand, because it is not an issue that has as much repercussion as poverty or education, and second, because it not only affects one minor, but two: at least 300,000 children between 0 at 3 years old they are left alone or in the care of a younger sibling.
The damage is double, because while the care of the youngest is insufficient, the oldest, who is neither prepared for the task nor corresponds to it, misses out on doing his homework for school, compromising his own education, as well as losing to enjoy their snack, distract themselves or play, when fulfilling adult duties.
Claudia Castro, an early childhood expert and member of Unicef's parenting workshops, and fourth Child Lifeguard, affirms that part of the problem is due to the lack of care spaces for the little ones: "Only 20% of girls and boys between 45 days and 4 years old can access these spaces. The offer is still not enough. It is important to emphasize that the referents of the nurseries must be trained".
The graduate in Education Sciences emphasizes that caring implies interacting with children and intervening in the face of any difficulty. If the children have other adult role models, these caregivers can detect, just like teachers at school, if something is wrong.
"The girl who is in charge of her little brother has the right to study, to do her homework, not to be in the care of her brother. They themselves, and the little ones, need a reference adult", explains Javier Quesada, a UNICEF early childhood specialist. The issue seems to have to do with economic possibilities, not only because wealthier families can hire caregivers, but because Quesada remarks that "half of unregistered workers don't have time to be with their children."
Regarding the fears of those who denounce a situation of violation of rights, Claudia explains: "They are not necessarily going to take the child away from his family. It is putting out an alert so that someone can approach that family and that child, and see what that situation consists of. That way, it is a problem that is solved without any distance ".
Anyone who is committed can be a Children's Lifeguard. In fact, the four lifeguards in this article are people who carry out their work every day, in different parts of the country, determined to improve the childhood of Argentine children. Here are some ways of being that Unicef ​​recommends: listening to the opinions of the children, guiding them in difficult situations, acting in the event of a violation of their rights, guaranteeing their integrity and preventing risk situations.




Source link