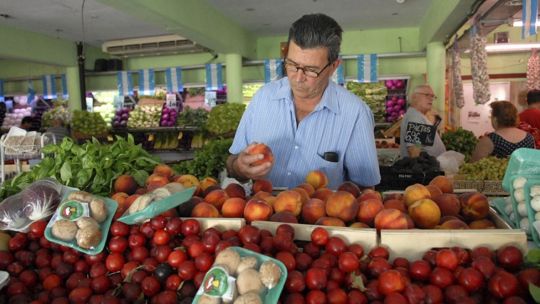 Within the framework of the program Fair Pricesthe Ministry of Commerce updated the basket of fruits and vegetables. According to what was reported, these fixed prices will be maintained for a month, with the aim of bringing relief to the pockets of Argentines and providing order, predictability and availability of supply to the sector.
Likewise, it was established that the products and prices will be available in the large AMBA supermarket chains. from April 5 to 30.
Fair Meat Prices are renewed with an increase of 3.2%
Compared to the previous month, it is worth noting that potatoes and onions fell in price, as well as the addition of pears and squash in this expansion.
Fair Prices: what is included in the basket of seasonal fruits and vegetables
The price per kilo of the items in the fruit and vegetable basket will be:
Black potato: $179
Round tomato: $459
Butternut squash: $149
Onion: $170
Apple: $399
Pera $199
Ecuadorian banana: $470
Banana subtropical: $382
Which are the companies participating in the agreement?
The wholesale suppliers participating in the agreement are
CAMABANA (Argentine Chamber of Bananas and Related Products),
Kleppe SA,
Saturn Fruit and Vegetable SRL,
Patagonia Sunrise S.R.L.,
Pradan SRL
Agropecuaria El Corralito SA,
Frutamax S.R.L.,
Cuadro Norte SRL,
Maguos S.R.L. y
Palmala S.R.L.
RM / LR




Source link