The situation in Rosariowhich during 2022 closed with a record of 288 homicides in Gran Rosario, and 17 in the first month of 2023, overheated after the shooting attack who suffered this Thursday the Antonela Roccuzzo family supermarketwife of Lionel Messi.
The serious security crisis leads some to put on a media show to which public officials lend themselves to raise the rating a few points or to generate a little noise in public opinion. And boy did they do it Amalia Granata y Esteban "el Pelado" Trebucq They did an interview in the streets of Rosario dressed in bulletproof vestsbut not to protect themselves from a possible attack, but to put on a show that had its repercussions.
Amalia Granata posted on her twitter account the announcement of the interview dressed in the vest.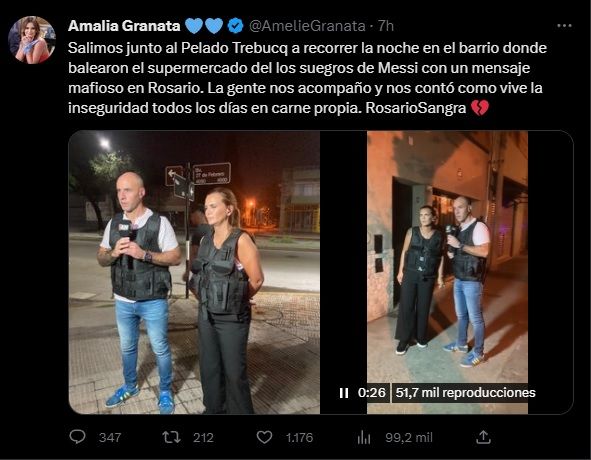 What the provincial deputy did not expect, as well as the journalist, was the reaction of the residents of Rosario. A passing motorist who was interviewed by Trebucq told him that what they were doing was "a joke."
"Do people have what you have (because of the vest)?", asked the neighbor; "No, is there something wrong?" the journalist replied. "You are clowning and you are a clown. And Amalia was voted for four years ago and she never appeared here, "said the man before continuing his march.
The talk rose in tone when Granata replied "I'm not a jerk" and the exchange of accusations grew. Hours later, to justify the show, the provincial deputy joined those who promote the participation of the Armed Forces in the control of security in Rosario through the presentation of a bill, through twitter.
But the responses on social networks were not long in coming. Both for and against a waterfall of comments that seem to have no end. the user @pininfari wrote: "Amalia Granata came to my neighborhood because they touched the Messi and Rocuzzo but Rosario has been taken over for years. Wtf what a clown. Why didn't she come when they killed innocent people? @AmelieGranata Stop selling silly smoke."
While, @405_rafapointed out: "In Rosario, the bald from Chronicle A24 America and I don't know how much more, with Amalia Granata doing a circus of what happened to Antonella in Rosario, with bulletproof vests, surrounded by neighbors telling them everything, people without vests rosary (obvious)".
Some messages also appeared in favor of the provincial deputy. @agarra_pala, wrote: "The bald Trebucq stood up with his balls in the streets of Rosario and confronted the neighbors who disrespected Amalia Granata: "What does the pig have to do with speed? Let me talk about what I feel like." But not much more than that.
Agustín Rossi came across Patricia Bullrich for the violence in Rosario: "They didn't put a p… radar"
Amalia Granata Minister of Security
Clearly the former Big Brother does not stitch without a thread and this exhibition with a bulletproof vest is surely part of the campaign that he launched a few days ago whenannounced that she wanted to be security minister. "I'm studying for a security degree and I'm in my second year," she said to finish off:
"I am feeding on this race because in my province there is an issue of insecurity that is public knowledge. I want to do projects and really know what it is about," he concluded.
fl




Source link