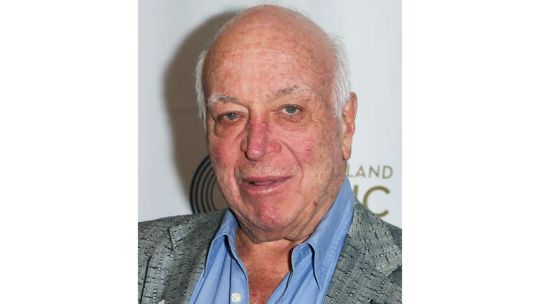 Being able to identify something that will become successful is a valuable skill. This happens, for example, with those who see a soccer player with projection or an actor who moves in the off-screen or goes to occasional castings before anyone else, or as happened with Seymour Stein, when, while hospitalized after heart surgery, a person of his confidence he took him to an unknown Madonna so that she would make him listen to her first demo –recorded on cassette–: Everybody. Sense, cunning, expertise or simply intuition, or all of that combined, led Madonna to leave that room with a contract of 45 thousand dollars for three singles and the option of an album. This is how Stein discovered Madonna and it is this talent scout who died this week at the age of 80.
Grateful diva. Seymour Stein "he was one of the most influential men in my life! He changed and shaped my world, "Madonna wrote in an extensive post where she explained how that meeting took place. "In the early '80s, I chased Mark Kamin, a DJ at a club called Danceteria, for a year, and he finally agreed to play my Everybody demo one Saturday. The disco, very full; and there was Michael Rosenblatt, from Sire Records, who asked me if he could introduce me to his boss. Of course! I didn't care that he was hospitalized and we went (…) Seymour had a cannula in his nose and he was on IV! (…) He laughed when he saw me and asked me if I was a relative of the Virgin Mary! Ha ha ha. I knew then that we would get along. I played the song a couple of times. And he hired me that day! (…) .Seymour not only listened to my demo, he watched me and saw potential in me! (…) These words cannot describe how I felt at that moment after years of struggling, being broke and having all the doors slammed in my face."
Stein also wrote in her memoirs –in 2018– what that moment was like: "Dressed in cheap punky clothes, she looked so out of place in that cardiology room (…) She didn't even care that I explained how much I liked the demo to the point that looking me straight in the eyes said: "Now I just need you to tell me what I have to do to get a fucking record deal in this city." Without a doubt, she had more balls than the four men in that room." Madonna's alliance with Seymour Stein was more than successful. Until in 1992 she opened her own label, she sold with Sire Records –only in the United States– more than sixty-four million albums; three of them were number one, as were ten singles.
musical smell. Madonna wasn't the only one Stein made famous. Her expertise or – as she wrote – "her passion for music and her impeccable taste" is responsible for the careers of Talking Heads, The Ramones, Lou Reed. KD Lang, Seal, and was the one who launched bands like The Cure, Depeche Mode and The Smiths in the United States. In the case of The Ramones, it was his wife who first saw them in 1975 and took Stein to one of the rehearsals. The result: the debut album and the eleven that followed were thanks to him; and his wife, Linda, became the group's manager. Something similar happened with the band led by an unknown David Byrne, who, via Stein and Sire Records, released nine successful albums in eleven years.
Passionate. Seymour Steinbigle –his last name would be shortened– was born in New York in 1942 and was 13 years old when he decided that music would be his world. He first wrote record reviews for Billboard, at 19 he went to work at King Records, then at Red Bird Records, and at the age of 24 together with Richard Gottehrer –producer and composer– they co-founded Sire Records. In addition to the artists mentioned, Echo & The Bunnymen, Madness, Morrissey, Ice-T, Everything But the Girl and Regina Spektor have passed through the catalog of that label, among others. "What attracts me to a band are their songs," Stein said in 2018. "I'm not looking for them to be technically good, that can be improved. I see that there is in the songs that germ in the composition that has to be present from the beginning. I never went after big bands either; I always look for young bands".




Source link