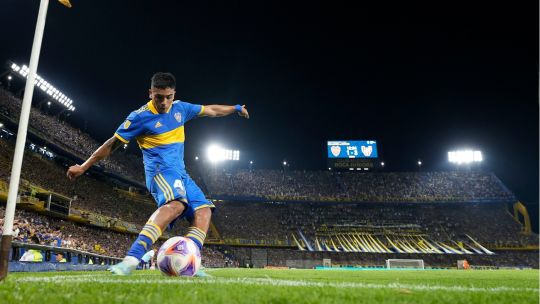 The highlights of this long weekend begin with the Argentine Cupwhere is saturday Boca Juniors receives Olimpo at 7:00 p.m., the game can be seen on the TYC Sports screen. Those led by Hugo Ibarra They will look for the pass to the next round to bring calm to the club, after the defeat against Instituto in La Bombonera.
Meanwhile, the same Saturday River Plate has scheduled a friendly against the University of Chile at 8:00 p.m. by the Star + screen. Martín Demichelis will use several youth players for this match.
While, on Sunday from 9:30 p.m. there will be a superclassic of the senior category in Jujuy, by the TYC Sports screen. Former players like Ariel the burrito Ortega y Marcelo the cello Delgado They will face each other again in a soccer match.
The sports agenda for March 25 and 26
SATURDAY MARCH 25
ARGENTINE CUP
19:00 Boca Juniors vs. Olimpo TYC SPORTS
FIRST NATIONAL
15:30 Villa Dalmine vs. Ferro TYC SPORTS PLAY
15:30 Estudiantes (BA) vs. Brown (A) TYC SPORTS PLAY
15:30 Flandria vs Def. from Belgrano TYC SPORTS PLAY
16:00 Department Madryn vs Gymnastics (J) TYC SPORTS PLAY
17:00 Agropecuario vs. San Martin (T) TYC SPORTS PLAY
18:00 Board of Trustees vs Guemes (SdE) TYC SPORTS PLAY
19:00    Alvarado vs Alte Brown    TYC SPORTS PLAY
FRIENDLY
20:00    River vs U. de Chile    STAR +
NBA
22:00    Denver Nuggets vs. Milwaukee Bucks    ESPN Extra / STAR +
TOP 12 FROM URBA
15:10    SIC vs. Alumni    STAR +
15:10 La Plata vs. Saint Louis STAR +
15:10 Atl. Rosary vs. Belgrano STAR +
15:10    CASI vs. Newman    STAR +
15:10 Pucará vs. CUBA STAR+
15:30 Hindu vs. BACRC ESPN Extra/STAR+
NATIONAL LEAGUE
20:00 San Lorenzo vs. The Union BASQUET PASS TV
21:00 Oberah vs. Olympic BASQUET PASS TV
22:00 Ferro vs. Institute BASQUET PASS TV / DIRECTV SPORTS
TOP 14 OF FRANCE
10:50    Castres vs. Toulouse    STAR +
17:00 Bordeaux vs. La Rochelle STAR +
EURO CUP QUALIFIERS
11:00 Scotland vs Cyprus STAR+ / ESPN
14:00 Armenia vs Turkey STAR +
14:00 Belarus vs Switzerland STAR + / ESPN
14:00    Israel vs Kosovo    STAR +
16:45 Spain vs Norway STAR + / ESPN
16:45 Croatia vs Wales STAR+
16:45 Andorra vs. Romania STAR +
MASTERS 1000 DE MIAMI
12:30 Second Round ESPN 2 / STAR +
20:00 Second Round ESPN 2 / STAR +
FRIENDLY MATCH OF LEGENDS
13:10 Match of the Legends – Villarreal CF STAR +
SUNDAY MARCH 26
FIRST NATIONAL
15:30    Aldosivi vs. Chacarita    TYC SPORTS PLAY
15:30 Almagro vs. Temperley TYC SPORTS PLAY
15:30 United Defenders vs. All Boys TYC SPORTS PLAY
16:00    Guillermo Brown vs. Nueva Chicago  TYC SPORTS PLAY
17:00 Gymnastics and Fencing (MZA) vs. Deportivo Morón TYC SPORTS PLAY
17:00 Club Miter vs. Tristán Suárez TYC SPORTS PLAY
18:00 Deportivo Maipu vs. Deportivo Riestra TYC SPORTS PLAY
18:00    Chaco Forever vs. Atlanta    TYC SPORTS PLAY
18:00 San Martin vs. Students from Río Cuarto TYC SPORTS PLAY
20:00 Atlético Rafaela vs Quilmes TYC SPORTS PLAY
NATIONAL LEAGUE
20:00 Gymnastics (CR) vs. Mouth BASQUET PASS TV
MOTO GP – PORTUGAL
06:45 Race 2 and 3 ESPN 2 / STAR +
CURRIE CUP
08:55    Sharks vs. Western Province    STAR +
SMARTBANK LEAGUE
09:00 Eibar vs. FC Andorra STAR +
11:15 Real Zaragoza vs. Albacete STAR+
16:00 Las Palmas vs. Sporting Gijón STAR +
EURO CUP QUALIFIERS
10:00 a.m. Kazakhstan vs. Denmark STAR+ / ESPN
1:00 p.m. England vs. Ukraine STAR+ / ESPN
13:00 Lichtenstein vs Islandia STAR +
13:00 Slovenia vs. San Marino STAR +
15:45 Slovakia vs. Bosnia Herzegovina STAR+
3:45 p.m. Northern Ireland vs. Finland STAR+
15:45 Luxembourg vs. Portugal STAR+ / ESPN
15:45 Malta vs. Italia STAR +
GOLF: WGC – DELL TECHNOLOGIES
11:00 Day 5 – Part 1 ESPN 3 / STAR +
4:00 p.m. Day 5 – Part 2 ESPN 3 / STAR +
ATP 1000 – MIAMI
12:00 Round Three ESPN 2/STAR+
TOP 14 OF FRANCE
16:05    Stade Francais vs. Racing 92  ESPN Extra / STAR +
WTA 1000 – MIAMI
20:00 Third round ESPN 2 / STAR +
CONCACAF – NATIONS LEAGUE
22:00 Mexico vs. Jamaica




Source link