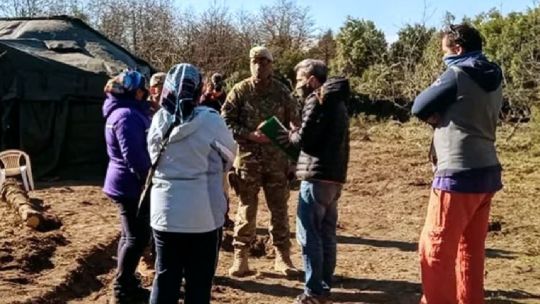 The Supreme Court of Justice ordered this Wednesday, March 29 unanimously to suspend the delivery of land to the mapuche community 'Millalonco Ranquehue' in Bariloche. It is a property of 180 hectares what belongs to the Argentine Army. Thus, the highest court upheld the complaints filed by said institution and the Public Prosecutor's Office. The resolution adopted by the magistrates requires suspend the adjudication operation until the question of the legitimacy of the ownership of the disputed lands is clarified.
The judge Silvina Dominguez had resolved through a judgment of first instance that the Executive Power transfer the land in question to the National Institute of Indigenous Affairs (INAI)to later transfer them to the Mapuche community.
How is the land of the Argentine Army in Patagonia that could be Mapuche property
Faced with this, the Attorney General of the Nation and the Army They raised the case to the Supreme Court of Justice of the Nation. Indeed, the Army stated that the land is used for training tasks for the members of the force.
Eduardo CasalAttorney General of the Nation, considered that Domínguez's ruling was based on "serious affectations of legalityof due legal process and of the general interests of society that are compromised, since progress towards compliance with the decision will further deepen the indicated damages."
The controversy over the Army lands handed over to Mapuches
The judges considered that there was institutional gravity in the operation administered by State agencies when issuing the order to allocate the land to the Mapuche groups.
The resolution of the magistrates took into account the parallel investigation that came to light when opposition legislators They denounced the Army lawyers to understand why the appeal was delayed.
Said presentation occurred because Judge Domínguez's measure had been appealed by the Ministry of Defensebut out of term, which fueled suspicions that the deadlines to move forward with the transfer of land to the Mapuche community that presented the claim were allowed to expire.
CA/ED




Source link