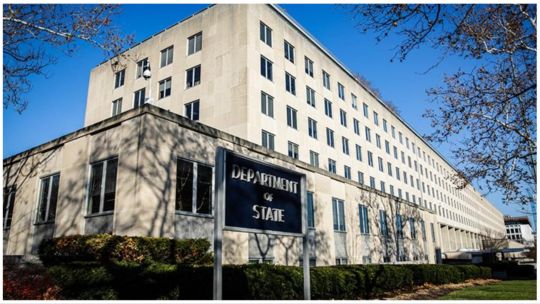 He US Department of State. published a report on the situation of the Human Rights in Argentina during 2022where they highlighted "numerous reports of government corruption" and "an ineffective and politicized judicial system."
In the section titled Corruption and Lack of Transparency in the Governmentthe US report was lapidary and highlighted the judicial process on the vice president Cristina Kirchner.
"The law establishes criminal sanctions for corruption of officials, but the government did not implement the law effectively. There were numerous reports of government corruption during the year. Weak institutions and an often ineffective and politicized judicial system undermined systematic attempts to curb corruption", they stated.
"Several corruption-related investigations were underway in September against current and former high-ranking political figures, including Vice President Cristina Fernández de Kirchner," they explained.
Horacio Pietragalla: "Carlos Blaquier had absolute responsibility on the Night of the Blackout"
And they detailed: "Fernández de Kirchner and nine main accused (45 accused in total) were accused of receiving bribes, paying bribes, or both, in public works contracts between 2008 and 2015 when Fernández de Kirchner was president. Prosecutors estimated the full value of the scheme bribery in $160 million. On August 22, federal prosecutors summarized the public works corruption case and requested that the lower court sentence Fernández de Kirchner and sentenced her to 12 years in prison and imposed a lifetime disqualification from holding public office. Fernández de Kirchner and his children faced four other cases of financial corruption".
Abuses by security forces
In the report, another of the most critical points regarding human rights were the reports that "members of the security forces committed some abuses".
"Significant human rights issues included credible reports of: unlawful and arbitrary executions, including extrajudicial executions; torture or cruel, inhuman or degrading treatment or punishment by federal and provincial officials; harsh and life-threatening prison conditions; serious problems with the independence of the judiciary; and serious government corruption".
Likewise, the report pointed to the government for not taking action on the matter: "The government took limited steps to identify, investigate, prosecute, and punish officials who committed human rights abuses or engaged in corruption".
Three months later, Cristina Kirchner will receive the support of the Puebla Group for her sentence
"The impunity continued to be a major problem in security forces at all levels. corruption and a slow and politicized judicial system hampered efforts to investigate abuses. In general, the government denounced the reported abuses and made efforts to train military and police forces at all levels on human rights, including through online training during the COVID-192 pandemic, they added in the official document.
On the other hand, they emphasized prison conditions: "They were harsh and life threatening due to overcrowding, poor medical care and unsanitary conditions. There were reports of repeated and arbitrary transfers, transfers to distant places, and the recurrent use of solitary confinement as a method of punishment, particularly in the province of Buenos Aires."
Prison overcrowding
"Prison overcrowding continued to be a problem. According to the Federal Penitentiary Service, as of September there were an estimated 11,400 inmates in a space designed for 10,936 people", they warned.
"Overcrowding in juvenile facilities often resulted in minors being held at the police station premises, although some NGOs and the national prison ombudsman noted that doing so is prohibited by law."
Alberto Fernández appointed an ally at the head of the Anti-Corruption Office
Judicial officials who did not respect independence
According to the report, despite the fact that the law establishes an independent judiciary, they found that "government officials at all levels did not always respect judicial independence and impartiality. According to national NGOs, judges in some federal and provincial criminal courts were sometimes subjected to political manipulation".
And, in response to complaints from a sector of the ruling party, the report stated that "there were no credible reports of political prisoners or detainees".
Freedom of expression
In the document they detailed that the Constitution establishes the freedom of expressionincluding for members of the press and other media, and that in that framework "the government generally respected this right. Independent media, an effective judiciary, and a functioning democratic political system combined to promote freedom of expression, including for members of the media."
They did highlight some cases denounced by FOPEA, of attacks on journalists, but in almost all cases there was support from the government.
Diplomatic tension: Argentina believes that Ecuador "hyperpoliticized" the political asylum given to a former minister
Mistreatment of indigenous communities
Lastly, they stated that "projects carried out by the agricultural and extractive industries displaced indigenous people, limited their access to traditional means of subsistence, reduced the area of ​​land on which indigenous peoples depended, and caused pollution that in some cases endangered their health and welfare. The conflicts occurred when the authorities expelled the indigenous people from their ancestral lands.".
And they took as an example the conflict with the mapuches: "On October 4, federal police forces evicted Mapuche extremist groups from the area known as Villa Mascardi, near the city of Bariloche. Seven Mapuche women were detained by police amid clashes over the occupation of private land and by his community The Minister of Security, Hannibal Fernandez, praised the operation and stated that "there was no repression." NGOs condemned the eviction as a violation of indigenous rights, and the Minister of Women, Gender and Diversity, Elizabeth Gómezresigned in protest on October 7″.
JD / ds




Source link