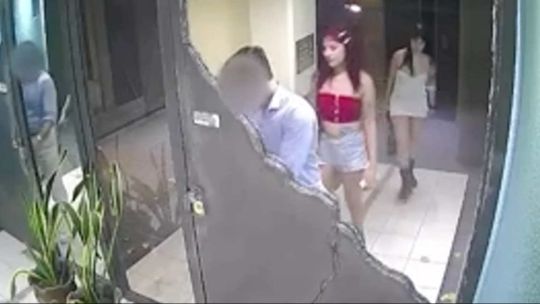 A tourist was the victim of two "black widows"" who seduced him, went to his apartment in the Palermo Hollywood neighborhood of Buenos Aires, drugged him and stole valuables. The man told that they served him wine and then he realized that fell into the trap. "I drank it and it made me very sleepy, they took me inside, to bed and there they started laughing," she explained.
Thanks to the security cameras, it was possible to see the victim and the two women entering the building on Guatemala Street at 5800 last Saturday morning. Three hours later, only the two assailants are seen leaving.
"I woke up the next day, I had no slippers. Luckily she had the belt on and the clothes too. They didn't hurt me. My passport and cards were there, but my electronic devices weren't and neither was my money," she told Clarion the victim.
When he realized what had happened to him, he went to see his friends to tell them what had happened to him and ask for help, since that day he had a flight back home. He left with the only footwear he had left: a pair of flip flops.
However, the man is grateful that these women did not take his notebook where he recorded his trip. "I was terrified, embarrassed, worried about how I was going to put everything in order when I got home. I reacted as I could. But I had a lot of time to think. I feel a couple of things. First that the world is a beautiful place, but also very dirty . AND it was curious that they did not take the diary. I take it to mean that they took my stuff but they didn't take my experience here. I love Argentina and I would definitely come back," he lamented.
How was the attack
As a result of a tweet that went viral, the Buenos Aires Justice began to act ex officio in his case and then the victim made himself available to provide the necessary data. "It's a horrible experience and shouldn't happen to anyone. Hopefully Justice can find the women. I have the need and responsibility to make sure that no one goes through this. I was taken advantage of, I was robbed, and I have a responsibility to prevent further victims. I don't want revenge, I want to protect more people," she said.
This man had gone to Input a nightclub in Palermo where the thieves seduced him and went together to the apartment where the tourist was staying. "The girls were curious about us and we talked to them. They didn't speak English well, it was all in Spanish. One said she was 23 or 24 years old and her name was Romina. Another said she lived a couple of blocks away," explained the man.
"Black widows" in Palermo Hollywood: they seduced him, drugged him and robbed him
"We were on the balcony and at one point I needed to refill my glass of wine and they offered to fill it for me. I drank it and it made me very sleepy. They took me inside, to bed, there they started laughing and everything went off," she described.
All of her valuables were taken away on the last day of her vacation, which was her birthday. "I came on vacation and it's the most beautiful city I've known in my life. I found very friendly people, people who selflessly did things for others, they did the right things. People on the street helping. I loved Buenos Aires and its people," clarified the damaged despite everything.
RB/fl




Source link