When the Ibero-American Summit was coming to an end, The White House formalized this Saturday the bilateral meeting that Presidents Joe Biden and Alberto Fernández will have next Wednesday the 29th at the White House
The Argentine head of state had received the communication informal of that meeting, but the official communication was missing, which arrived this Saturday in a statement from the White House press secretary, Karine Jean-Pierre.
It is not a minor detail: Biden already had to suspend the meeting once last year when he was infected with coronavirus. The invitation was delayed a few days because Biden had been in Canada until this Saturday. Confirmation would only arrive on North American soil and so it happened.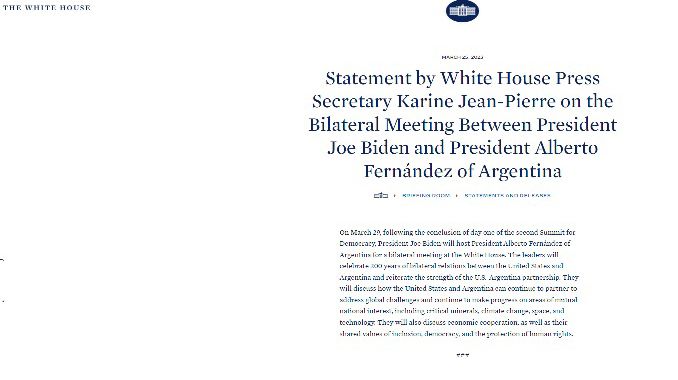 The President will fly to the United States this Sunday morning from Santo Domingo. In four hours of travel you will be in New York where they are waiting for you meetings with businessmen. On Tuesday he will leave for Washington to finish preparing the bilateral meeting. There will be added the Minister of Economy, Sergio Massa.
In the pre-meeting and from the Dominican Republic, Fernández sent a few winks to Biden. The first had to do with a criticism of his predecessor. "Our America, in the years in which Donald Trump ruled the United States, suffered a process of tremendous regional disintegration. UNASUR gradually faded away as its members disassociated themselves by fulfilling mandates imposed by that republican government. Even the OAS remained at the service of that disintegrating objective, validating a coup d'état in Bolivia." he said in the speech of just over seven minutes.
Kirchnerism turns and Alberto Fernández puffs out his chest for the end of the "thumbnail"
Another nod to the north had to do with a mention of China: "Globalization also expresses a time of review in its commercial face. The clear irruption of China in the world market has generated two forceful effects. The first is a relocation of the industries in their places of origin. The search for cheap labor only led to lawsuits and social crises. The second is the strengthening of regional blocs. Nations, united in blocs, have managed to strengthen their resources and generate a better framework of social development".
It will be one of the three most important international photos of his management. The first two were with Vladimir Putin (Russia) and Xi Jinping (China). After 20 years, a Peronist leader returns to the White House. The last one was Nestor Kirchner with George Bush.




Source link