This Wednesday afternoon, a 30-year-old man broke the security mega-operation present at the AFA premises in Ezeiza, slipped into the changing rooms and got to where he was Lionel Messi. The fanatic, who took a photo with the captain of the National Team, he was quickly arrested.
The man He was identified as Fernando Carlos Palacios, 30 years old and a native of the city of Azul, in the Province of Buenos Aires. Palacios is a truck driver and had not told his family that he was coming to Buenos Aires, especially to do this.
The madness for Messi does not stop: fans took over a Buenos Aires grill where Leo had dinner with his family
According to the first versions, the fanatic would have slipped through the back of the Ezeiza property, in the sector behind a baseball field, evading members of the Immediate Operations Tactical Unit (UTOI) of the Buenos Aires Police. Although it is unknown how he entered the establishment, police sources indicated to telam that it is speculated that he did hidden in the trunk of a vehicle or with inside help.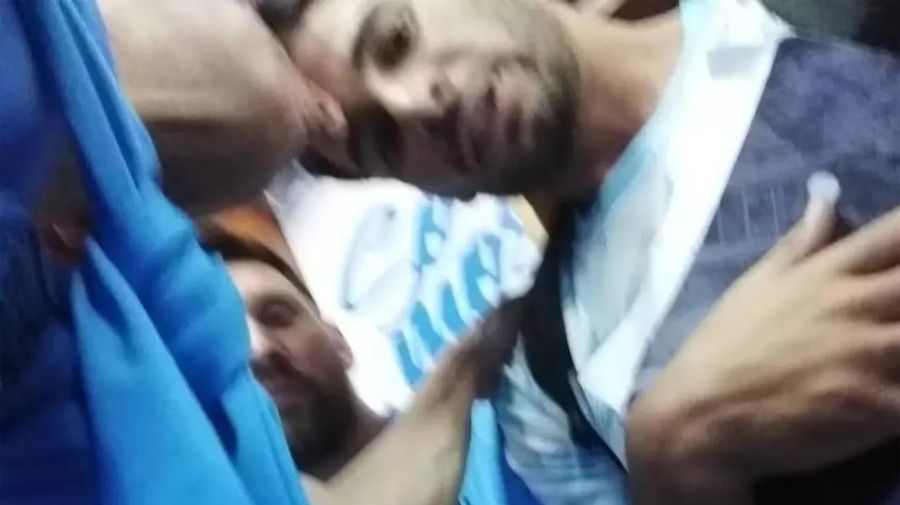 Palacios was arrested and transferred to the 4th police station. of Ezeiza, with jurisdiction in the area. Besides, the cell phone in which he took the photo was confiscated Messi. As indicated by judicial and police sources to C5Nthe AFA filed a complaint with the Department of Ezeiza.
They found Lionel Messi at a toll and the champion greeted them from the car
"In compliance with OS AFA property, UTOI personnel affected by it, in charge of Principal Armani Lucas on identifiable mobile and effective in charge, are summoned by security personnel of said property, informing that a Male NN entered the complex used by the Argentine soccer teamwanting to take a photo with his cell phone," announced the police report in the first instance.
Later, he added: "He could have entered the trunk of a vehicle. He himself is apprehended and transferred to this police station, where he is identified as Palacios Fernando Carlos (30). Communication was maintained with UFI 01 of Ezeiza, in charge of Dr. Ricard, who ordered rigorous actionsproviding freedom by art 161 of the CPP"
However, the decentralized Ezeiza Functional Instruction Unit (UFI) 1, the prosecutor's office acting in the case, set the man freewhile proceedings were initiated by "investigation of illicit".
"I entered as if nothing": the fan's story
in dialogue with TN, Palacios spoke about the episode at the AFA premises. "I am a fanatic, passionate, and although when they found out they pushed me out, for me it was a beautiful day", he said in this regard. Regarding access to the establishment, he explained that" I had to do some dribbling, but in the end I entered as if nothing had happened.
Regarding the "preparation" of his plan, he explained that "he had seen what the property was like from the outside" when he noticed a kind of forest, from where he entered the place. Then, he entered through the baseball field, as indicated by the authorities. "There was a kind of wall, I climbed, I watched everything, I jumped and went down to the field. I met the pitchers, I talked to them, obviously I never told them that I had sneaked in," he said.
Added to this, he said that he met police officers, with whom he began to speak. "They asked me if he worked there, I told them yes and I was able to continue", he recalled. After climbing another wall, he arrived at the fields where the National Team were. In order not to attract attention, the young man took out "a folder that he had to hide that he was doing something."
Once training was over, Palacios followed the squad to the locker room. "When the players went into the locker room I sent myself and no one ever told me anything. There I greeted Armani, Paredes, Dybala, almost everyone!", he commented happily. Also, since he did not see Messi, he asked Simeone: "Gio, where is the 10, the most wanted?"
"He beckoned me, I turned, I saw Leo and it was a terrible emotion. I just went over there, shook his hand, thanked him for so many joys, he shook my hand, he was very surprised, I made two selfies fast because I had a low battery and I was very nervous and anxious and ready," Palacios continued his story.
However, when he finished taking the photos, "a rude prop arrived" and removed him from the place. Upon being discovered, the establishment staff called security. "There they challenged me, they took me out by force, by pushingthey took my data and nothing else, "said Palacios.
When he was released, the man decided to return to his city, "happy" to have met the captain of the National Team. "I arrived this morning (to Azul) at 10, I rested for a while and that's it. I am happy. I really like soccer, I'm doing the coaching course and I would have liked to see Chiqui Tapia to talk to him. Here, in Azul, everything is very amateurish, so when I go to the big cities I am moved, I feel a lot of passion and well, If on top of that I can reach Messi, why am I not going to do it?", he concluded.




Source link