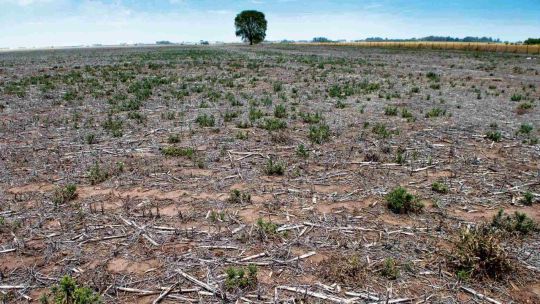 "The worst drought of Argentina in, at least the last 60 years, has come to an end. The last day of summer was the first day of a new script for the Argentine climate", indicated a report from the Rosario Stock Exchange (BCR).
The lack of rain generated the worst grain harvest in recent years, which implies a 48% drop in exports, that is, US$ 20,811 million less for the country.
According to the entity, the drop in tax collection will be US$ 7,376 million, while the GDP will do so at 3%.
The ruling is based on "the storms that developed between March 19 and 28 left very good coverage and significant accumulations in the center of the pampean region".
The BCR specified that the water was distributed in a 85% of Córdoba, 95% of Santa Fe and in all of Entre Ríos with rains of more than 50 millimeters.
Drought: relief measure for producers announced
Santa Fe, one of the provinces hardest hit by lack of water, this time received the greatest load: a 20% of its surface exceeded 125 mm, concentrated in the provincial center.
In 65% of the province of Córdoba, the rainfall exceeded 75 mmand, in some isolated areas of the central strip, it was over 100 millimeters. The towns of Idiazábal stand out with 150 millimeters, Marcos Juárez with 113 millimeters and Córdoba capital with 104 millimeters.
According to the BCR, this time Buenos Aires was left out of the rain since only the north and part of the provincial east received rains above 10 millimeters.
"Having normal rains this fall is key for the fine campaign and also for the thick 2023/24 campaign in Argentina," the entity said.
The girl left
A few days ago, the National Drought Monitoring Table had "officially declared the end of the La Niña event"based on the fact that both the oceanic indicator (Sea Surface Temperature) and the atmospheric indicator (Southern Oscillation Index) currently present values ​​within the neutrality range.
According to the body made up of specialists from national institutions, in the area affected by severe drought "a greater chance of normal or below normal rainfall towards the north of the Littoral, normal rains over the center and west of Formosa and Chaco and east of Salta".
Throughout the region affected by severe drought, temperatures are expected to continue to be, on average, higher than normal, the Mesa report stated.
LM




Source link