The Minister of Economy, Sergio Massalaunched this Wednesday the 5th Export Increase Program which consists of creating a differential exchange rate for some agro-exporters, in addition to tax benefits for Argentinian producers and sanctions to companies that do not comply with the liquidation of the dollars they exported.
In this sense, the agri-food sector is in a position to liquidate up to US$ 10,000 million in the coming weeks, based on the new export incentive scheme announced by the Government. This was estimated by leaders of the agro-industrial sector and sources from the Ministry of Economy. If that goal is met, The weak reserves of the Central Bank will be strengthened, in line with the agreement with the IMF.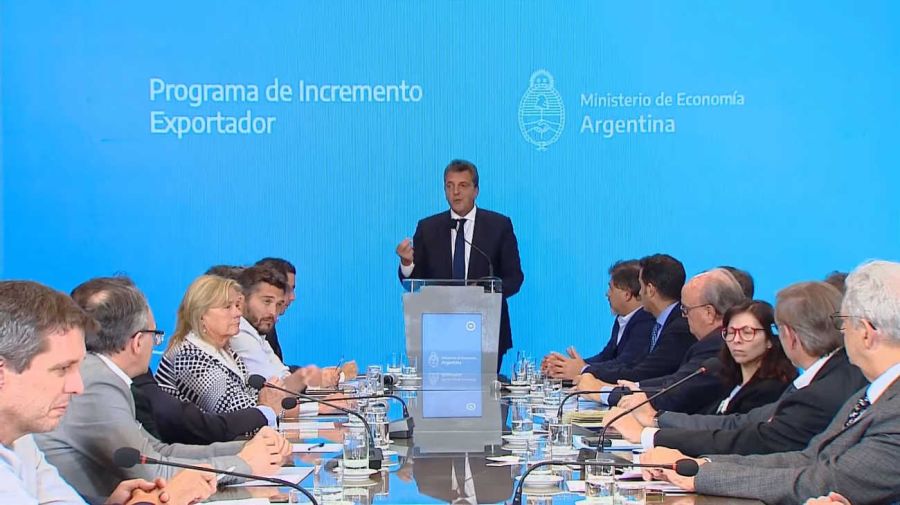 With this measure it is sought that the greatest liquidation occurs in the first months, where the impact is the one necessary by the Government and stronger financially for the companies. Along the same lines, from the wine industry they asserted to the agency THAT than measure "although it is not a panacea, it improves the situation" of the sector.
On the other hand, the Chamber of the Oil Industry of the Argentine Republic (CIARACEC) calculates that with the measures promoted by the Minister of Economy they could liquidate 5,000 million dollars per soybean approximatelyy 600 million in a group of barley, sorghum and sunflower. If you add the 3,700 million dollars that have not yet been liquidated by those who have already exported, you would be adding some 10,000 million dollars for reserves.
The socks promoted by Sergio Massa
Emergency for Producers: "There are more than 69,000 producers in Argentina with losses", Massa expressed due to the droughts. And then he added: "The first thing we do with one of the three decrees is to establish the automaticity of the benefits of the emergency for all producers in Argentina".
In this way, the victims will enjoy tax benefits such as suspension of tax and bank foreclosures and the perceptions of advance or advance payment of taxes charged by the State, while the Emergency lasts.
The new exchange rate: Agro Dollar
On the other hand, the second decree of the program that "is going to start the Monday April 8 and ends May 31 and provides for a fixed exchange rate of 300 pesos that improves the price for the producer", explained Massa. Agro Dollar will encompass both soybean complex As the regional economies. However, the regional economies they will have a term to settle the dollar agro that will last until August 30.
Sanctions to companies that do not liquidate their dollars
Finally, the Minister of Economy anticipated that they will establish the pertinent mechanisms to go against a group of companies that do not meet the agreed deadlines to liquidate the dollars for exports.




Source link