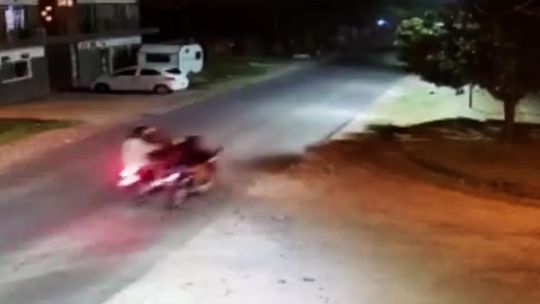 Hernán Cocchiarella, 39, was riding a motorcycle with his partner to the house of the young woman's mother when some motorized robbers caught up with him and killed him a shot. A video recorded the moment the victim was shot and the girl was left stranded in the middle of the road in Moreno.
Thanks to the recording of the security cameras located on the intersection of Belisario Roldán and La Piedad, in the town of La Reja, in Moreno, the attackers could be seen in action. the motorbikes manage to get next to the Honda XR 150 in which Cocchiarella and his partner were traveling and at the same moment they shoot to take the motorcycle.
The victim had an 8-year-old daughter and worked at the toll booth on the Western Highway. The murder occurred on Sunday night, a day after the murder of 20-year-old delivery man Danilo Mercieri, who was killed to steal his motorcycle in the Quilmes district.
"We are very insecure. It is a disaster. They took my life. As a father I told him to sell the motorcycle. He didn't listen to me," Luciano Cocchiarella told the news channel through tears. TN who said that a vehicle had already been stolen from Hernán a few months ago.
the crime sequence
Cocchiarella had picked up his girlfriend at work and they were going together to the girl's mother's house when they were surprised by the thieves. The assailants were aboard a black Honda Falcon, got alongside the victims and Hernán was shot twice to steal the car. After the shots, the victims fell on the grass, next to the motorcycle. In the images it can be seen that the girl is desperate while she watches her lifeless partner on the floor.
At that moment one of the criminals gets off his motorcycle, takes the Honda and runs away without caring about leaving the body lying around. When the ambulance arrived at the scene, the victim no longer had vital signs.
According to legal sources, the victim received two bullet wounds: one in the left shoulder, which was lodged in the lung, and another in the mouth, which was found by forensic experts who did an autopsy on the brain.
The case is being investigated by the Moreno-General Rodríguez Functional Instruction Unit No. 3, under the supervision of prosecutor Luisa Pontecorv. Authorities asked those who may have been witnesses to call 237-410-3553.




Source link