"Stay right there, stay right there and raise your hand". The order was given to him by one of the officers of the IDD of La Matanza to one of the bus drivers who were arrested this Thursday, April 6, during the early hours of the morning. The videos did not take long to go viral on social networks, where images of the raids at the terminal also emerged. Viceroy of the Pine.
In the middle of the night, a dozen troops showed up at the bus driver's house, located in the western area of ​​the Buenos Aires suburbs. Upon arrival, the man waited without resistance to be approached by the members of the force, who are seen with their regulation weapons and shields.
"Slowly, I'm not a malandra. I'm a bus driver," was the answer that the man who was arrested by court order of the Criminal, Misdemeanor and Misdemeanor Court of CABA No. 20.
Eight bus lines in the West Zone stop "until they release the compañeros": what are they
The raids and arrests ordered by the Justice in the framework of an investigation into the attacks suffered by the Buenos Aires Minister of Security, Sergio Bernilast Monday during a protest in General Paz and Alberdi. There a group of bus drivers protested about the murder of the driver of line 620, Daniel Barrientos, which occurred hours before.
As is known, the operations started yesterday by order of the Justice were aimed at collecting evidence. In addition to private homes, the Justice ordered the seizure of information such as files of company drivers Almafuerte and Nueva Ideal SA
Drivers' anger
The situation caused the anger of the workers who consider that in addition to being victims of the murder of a co-worker and being exposed to episodes of insecurity, they feel persecuted by Justice and the authorities. Given this, they started an indefinite strike that affects eight lines:
Line 218 (Liniers – Cañuelas),
284 (Liniers – Rafael Castillo),
325 (Liniers – Gregorio de Laferrere);
378 (Liniers – González Catán),
622 (Insuperable Villa – Viceroy del Pino) ​​and
628 (San Justo – Ciudad Evita),
620 (Lomas del Mirador – Viceroy del Pino) ​​and
382 (Lomas del Mirador – Viceroy del Pino).
The daughter of the bus driver murdered in La Matanza spoke: "My father had been fighting cancer"
"The strike is for an indefinite period, until the two companions are released"said to telam Luis Gómez, driver of Line 620.
"In principle, the strike is until midnight today (Thursday), but it will be ratified in an assembly. There is also an intention for workers from other lines in the area to join," added union delegate Salvador Strazzeri, who announced a concentration of workers for this morning at kilometer 42 of Route 3, in the town of Virrey del Pino.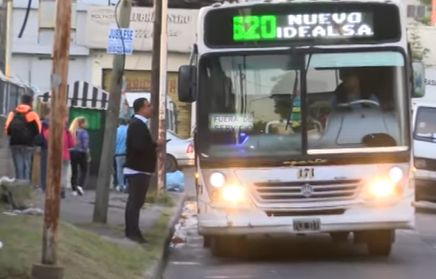 Pablo, another driver of the Line 620I affirm that "we were treated as criminals and not as citizens".
held that "what happened with Berni was wrong"and he asked himself: "How would you feel if they come, kill a colleague and the person who has to protect you does nothing, and comes at the hottest moment of the situation and comes down like a patotero, a canchero? How would you feel?"
AS/ff




Source link