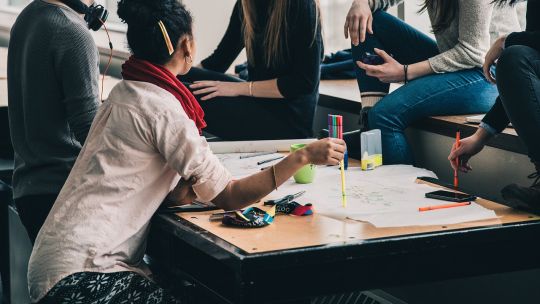 In 1908, women workers of a factory in New York, United States, went on strike to demand better working conditions, a reduction in their working hours and equal pay. As a consequence of the claim, 129 women died.
Since then, great advances have been achieved, not only in economic matters but also in the social aspect. However, there are still debts to pay off.
"It is proven that companies that have more diversity in their teams perform better than those that don't. Beyond the anniversaries, building more diverse and inclusive work spaces is an everyday job that contributes to organizations that are not only more profitable but also fairer," said Samanta Queipo, Head of Organizational Culture at Grupo Gestión.
Microaggressions and the salary gap: the outstanding debt of women in the workplace
What is the current situation of women in the labor market?
there is still a gender division of labor, which is evidenced in sectors where men predominate and others where women do. According to official reports, the Women are found mostly in sectors related to domestic service, teaching, social and health services. Meanwhile, there is a greater number of men in areas such as construction, transportation and the manufacturing industry.
Even so, there are concrete changes in organizations in line with achieving greater diversity in the world of work. According to a survey carried out by Grupo Gestión and CIO Investigación among more than 60 large, medium and small companies in Argentina, it was found that currently the Work experience is the most valued element of the CVfollowed by the level of studies achieved and the trajectory of the person in each position and that both gender and age moved to the end of the list of aspects considered by companies and recruiters.
Women's Day 2023: where and when are the marches and events for 8M
Leadership: Greater diversity equals better results
The participation of women in leadership positions has grown in recent years, both in the public and private spheres. Similarly, according to INDEC data, the percentage of men in management and leadership positions is 75% higher than that of women.
Research by the consulting firm McKinsey in 15 countries found that organizations with gender diversity on their executive teams that were in the top quartile "are 21% more likely to experience above-average profitability compared to companies in the fourth quartile." ."
In turn, a study by the Boston Consulting Group revealed that "the companies with above-average diversity in their management teams had 19% higher innovation revenue to those of companies with below-average diversity in leadership positions."
Another dark Women's Day: there were 242 femicides in 2022 and 40 so far in 2023
Pay gap: the difference that persists
Currently, the wage gap is a concrete expression of differences between men and women. According to official figures for the second quarter of 2022 from the Permanent Household Survey of the National Institute of Statistics and Censuses (EPH-INDEC), the Women earn, on average, 28.1% less than men.
It is even observed that the The income gap increases with a lower educational level and with a lower qualification of the occupation.
RM CP




Source link