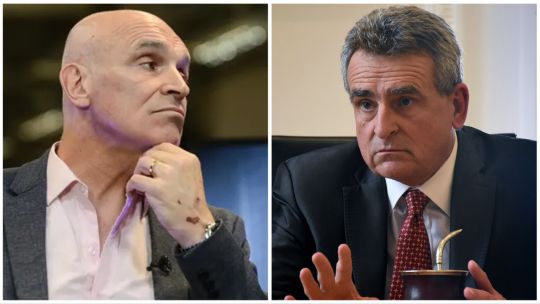 The national deputy of Avanza Libertad José Luis Espert On Wednesday, March 29, he delivered an aggressive speech and starred in one of the hottest moments of the briefing of the Chief of Staff, Agustín Rossiwhom he asked not to "play the canchero" and called him "cheeky" and "supine ignorant."
"Here, look at me here. You don't have the education to look at me. Don't play the canchero, cheeky!", gave the liberal economist to the man from Santa Fe, whom he accused of not having talked about inflation during the management report, which he presented for 66 minutes before answering questions -and grievances- from opposition legislators.
"You didn't talk about inflation, here you have to lower taxes. People don't give more than pay taxes. You didn't say anything about that either," Espert continued to protest, indignantly and with a frown.
Carolina Píparo broke with Espert and put together her own block after her approach to Milei
The opposition deputy described as "a shame" that the chief of staff appeared to share a series of numbers "all pulled by the hair".
"Instead of coming to give a report to the representatives of the town, he spent 30 minutes giving some numbers all pulled out of the hair and then He came here to fart us. A shame", repudiated Espert, drawing applause from the bench of Together for Change.
The "work" of Human Rights and the request to "close" Aerolíneas Argentinas
The libertarian also reaffirmed his idea that the Government's Human Rights policy "it's a job", same terms coined days ago by former president Mauricio Macri.
"Your Human Rights policy is a job and coming here to raise the flag of Hebe de Bonafini that it is committed to the corruption of Shared Dreams is a real shame," he shot.
He also called Rossi "supine ignoramus" by "not understanding that inflation is a monetary phenomenon" and not multicausal.
"Is it so difficult for you to get it into your head that inflation is a monetary phenomenon? You don't say a word about it", continued Espert, without lowering the level of aggressiveness.
Javier Milei accused José Luis Espert of being a "socialist" and the economist responded with irony
On a different note, he railed against the government's commercial aviation policy and opined that Aerolíneas Argentinas "should close it directly" to move to an "open skies" paradigm.
Meanwhile, the right-wing referent minimized the government's investment efforts in Science and Technology, as well as the foreign investment account. "Three empanadas", he quipped, alluding to a well-remembered phrase from a character from Luis Brandoni.
"let's finish with the tale of import substitution That is why Argentina is a country in decline," he concluded.
Rossi's response and Del Caño's intervention
The next deputy to speak was Nicolás del Caño (Left Front), who, before going on to criticize different aspects of government management, took time to describe Espert as a "fourth-rate thug" for his way of addressing the chief of staff.
"It is clear that you are an experienced orator and it is easy to polarize with these sectors of the right-wing opposition. Not to mention the opinionated deputy who seems like a fourth-rate thug when he speaks," he lashed out.
Before responding to the proposals of deputies from different political spaces, Rossi took the microphone to answer Espert.
"I was here for 10 years -he was a national deputy for Santa Fe from 2005 to 2013, and between 2017 and 2019-. They never insulted me as much as you. I want to tell you, it has merit. He wanted to get a cucarda, it has a merit. I suppose it will be his fascistoid way of expressing himself", he said sarcastically.
JD / ds




Source link